Alsace Classification Essay
Following a visit to Alsace, this is part one of a three-part report.
1. Wines of Grand Cru Hengst, Alsace
2. The Best of Alsace – wines back to 1945
3. Visits to Five Alsace Producers
Like almost all of France's 'classic' wine regions, the wines of Alsace adhere to a classification system that is intended to group and distinguish wines in terms of quality. Whilst Burgundy has numerous levels – 'Region', 'Village', 'Premier Cru' and 'Grand Cru' for example – Alsace has only two: wines are either 'Alsace' or 'Alsace Grand Cru' (though there is a third, 'Crémant d'Alsace', reserved only for sparkling wines). In theory this simplicity should make the wines of Alsace very easy to understand, with Grand Cru wines carrying a guaranteed stamp as the pinnacle of excellence, whilst everything else is on a lower, but level, playing field. But of course, nothing is ever that simple. The Grand Cru classification was introduced only in 1983, initially declaring 25 sites. But from the outset the classification was messy: notable producers such as Trimbach and Hugel rejected it completely (to this day they do not label any wines as Grand Cru), whilst many questioned the boundaries of some of the new elite.
Since then the Grand Crus have more than doubled in number, but confusion and uncertainty about their status has barely improved. Many of the greatest wines of Alsace do come from fabulous Grand Cru terroirs, but for proof that the system is not quite as robust as it should be, just check the shelves of your local wine retailer, where alongside the greatest wines of the Grands Crus Hengst, Rangen or Brand, it is perfectly possible to pick up a bottle of Alsace Grand Cru for a tenner. Try doing that with Burgundy.
Grand Cru can represent the very best of Alsace, but it doesn't always.
The producers are aware that their Grand Cru system is a curate's egg: good in parts, but flawed. To that end, various moves have tightened-up regulations, and individual Grand Crus have elected to set even stricter limits on yields, use of chaptalization, etc., in order to further improve their wines and their reputation. So far only four grape varieties are allowed within Grand Cru rules: Riesling, Gewurztraminer, Pinot Gris and Muscat.
I recently visited one of the most famous Grand Crus, Hengst, to meet a dozen of its 28 wine producers and taste their wines. Amongst the issues that this most famous Grand Cru is grappling with is Pinot Noir: though dominated by plantings of Gewurztraminer and Pinot Gris, around 7% of the total Hengst vineyard is Pinot Noir. The problem is, not only is Pinot Noir ineligible for Grand Cru status, but the name Hengst cannot even appear on the label. Currently, the producers of Hengst and other Grands Crus where Pinot is prominent are lobbying to have the grape recognised by the Grand Cru, and if not that, to create a new Premier Cru classification that could encompass Pinot Noir.
Let's talk about Hengst
Covering 53 hectares Hengst is a medium sized Grand Cru – some are up to 80 hectares, the smallest, Kanzlerberg, covers just 3.2 hectares. The name Hengst means 'stallion', because heavy horses traditionally worked the heavy ground, a mix of clay and marl over limestone. I also met the vignerons and tasted in the remains of a Roman staging post from the 1st century AD, where horses were changed, sited in the middle of the Hengst vineyards. From this vantage point you can see the mountains of Switzerland and Black Forest of Germany. The Grand Cru sits above the villages of Wettolsheim and Wintzenheim, and many experts believe this was the first viticultural area in Alsace. It is also one of the driest, with nearby Colmar recording 600mm of rainfall per year.
The vineyard altitude is 260-350 metres, and the first records of wines being named as coming from Hengst was in the 8th century. Hengst has a sunny southeast exposition, and since 2003 the local growers have agreed there is no chaptalization, and maximum yield is restricted to 55hl/ha. Hengst wines tend to be full-bodied because of the limestone soils, whereas those from the Grand Cru Brand, for example, which is on granite, are very different – arguably more mineral, but less full-bodied. There are 80 growers on Hengst, some of them very small with just 50 square metres inherited from their grandparents, and 28 estates produce wines from Hengst. Eight of the twelve that I met farm organically, which is typical of the region. The producers told me that their wines match rich dishes with complex flavours and saltiness, and that this is true for all grape varieties – even Gewurztraminers that are rich with residual sugar – they still retain a good acid structure.
The wines were tasted on the Grand Cru, including a selection of Pinot Noir. Local agreement limits yields for Pinot to just 45hl/ha, but I have to say I did not find the Pinots totally convincing as my notes below will explain. An interesting decision by the Hengst group is to include an expression index on the labels of their wines, indicating the sweetness level (another source of confusion in Alsace generally, where often two seemingly identical wines can be at either end of the sweetness spectrum with little on the label to guide the consumer). The Hengst scale runs from 1 (dry) to 5 (sweet), equating to less than 4g/l of residual sugar for index 1, to more than 45g/l of residual sugar for index 5. Some of these wines are not imported into the UK at time of writing, but I have given wine-searcher links for all wines to show any current stockists.
Hengst Riesling
Domaine de la Ville de Colmar, Riesling Grand Cru Hengst 2012, France
Lots of ripe and lemony fruit with a touch of delicate floral character, then searingly dry on the palate with a stony and citrus directness. There's a developing waxiness and apple skin grip, really powerful mineral acidity drying the mouth with a dry extract stickiness. 89-90/100. See all stockists on wine-searcher.
Domaine Hebinger, Riesling Grand Cru Hengst 2002, France
Developed, mealy and custardy stuff, with plenty of aged, oxidative notes. On the palate it feels quite steely and fresh, though the fruit has certainly dropped away, but still there is good balance and a nice, creamy texture to the finish. This has a nice sense of juiciness, a thrust of lime beginning to assert, and in the end a really nice, complex wine. 91/100. See all stockists on wine-searcher.
Barmes Buecher, Riesling Grand Cru Hengst 2008, France
Lots of stones and minerals here, lots of saltiness immediately on the palate, with a little bit of beeswax and plenty of really tight citrus acidity. Lemony, juicy and salty, giving this delicious tang and juiciness. Absolutely delicious and intense. 93/100. See all stockists on wine-searcher.
Hengst Pinot Noir
Domaine Saint Remy, Pinot Noir Barrique 2012, France
Lovely light to medium ruby. Lots of spicy, smoky oak, with some exoticism, some sandalwood notes and quite rich red fruit notes. The palate shows a little too much oak, with a certain vanilla creaminess, but the palate of red fruit – tinged with strawberry and ripe berries – does fill out with lots of oaky spicy, lots of clove. Perhaps a little over-oaked. 87/100. See all stockists on wine-searcher.
Aime Stentz, Pinot Noir 2011, France
Lighter colour, but a touch of something slightly herbaceous or slightly attenuated for me. That does blow off a little, and there is much more fragrance a bit of cherry lift and life, lots of spice but seems as much from the grape as the barrel here. Quite dry, maybe lacking a touch of flesh. 88/100. See all stockists on wine-searcher.
Stentz-Buecher, Pinot Noir 2009, France
Rather cloudy. With an odd nose showing an almost raisined, ripasso character. There is a creamy vanilla sweetness that comes through, but an unconvincing nose. Concentrated stuff, with lots of plush sweetness, then there is good freshness in the finish, a bit of cherry skin bite and acidity. Big, hot and full, but not my favourite style of Pinot. 87/100. See all stockists on wine-searcher.
Paul Buecher, Pinot Noir 2005, France
One barrel production, from 30-year-old vines. One third whole bunches. One year in barrel. Very nice aromas, with plenty of oak and spice, but there is a fruit concentration and energy here too. The palate has a much nicer texture, silky, with good fruit and balance, and although it is a tiny bit dry, it has a lovely finish of spice and red fruits, and a freshness too. 90-91/100. See all stockists on wine-searcher.
Hengst Pinot Gris
Domaine de la Ville de Colmar, Pinot Gris Grand Cru Hengst 2010, France
This has 14.5g/l of sugar. Wild yeast ferment. Bold green and seems quite viscous, there is rich pear and apricot fruit – a yellow fruit character – with delicate oatmeal and spice. This has a little sweetness at the core, and a lovely orangey, ripe acidity that adds to the pleasurable roundness. Although there is acidity and freshness, it finishes just on the off-dry side. 89-90/100. See all stockists on wine-searcher.
Cave Turckheim, Pinot Gris Grand Cru Hengst 2010, France
20g/l sugar. Much more bright, fresh fruit than the truffle or oatmeal of the previous wine. A burgeoning sweetness on the nose, with a little salty freshness. Much lighter and racier than the Ville de Colmar, still plenty of sweetness, a lime marmalade character and a grapefruit juice freshness. 89-90/100. See all stockists on wine-searcher.
Aime Stentz, Pinot Gris Grand Cru Hengst 2005, France
Residual sugar is 30g/l. Gorgeous, honeyed ripeness and development, with hints of white truffle and orange. Lovely palate too, creamy and svelte, with a real sweetness to the fruit, a nice orangey freshness with hints of barley sugar and honey, but the truffly quality is set so beautifully against the sugar with no heaviness or flabbiness. 92/100. See all stockists on wine-searcher.
Albert Mann, Pinot Gris Grand Cru Hengst 2002, France
"Sugar is the tannin of a white wine. It will metamorphise with time," according to Jacky Mann. Delightful honey and toast, a touch of barley sugar here, with that nice truffly character developing. So juicy and full, with 30g/l of sugar, but again it is not really felt in this wine, the development, the hints of spice and oatmeal, and a nice firmness to counterbalance the sweetness. 93/100. See all stockists on wine-searcher.
Stentz-Buecher, Pinot Gris Grand Cru Hengst 2010, France
Plenty of truffle here, it seems like both development and vegetal earthiness, a bit of natural wine character here and it is in a slightly lighter, less complex style, but has very good balance, the 40g/l of sugar is really swallowed up by the acidity, a pear-like ripeness and juiciness. 90/100. See all stockists on wine-searcher.
Hengst Gewurztraminer
Josmeyer, Gewurztraminer Grand Cru Hengst 2011, France
20g/l sugar "a baby". Fabulous aromatics – loads of lychee and nettle, geranium and old roses. The palate has a dry extract character, the sweetness felt as a mid-palate ripeness, but there is earthiness and a thwack of acidity and robust character that gives this a powerful dry character in the finish. 90-91/100. See all stockists on wine-searcher.
Domaine Saint Remy, Grand Cru Hengst Gewurztraminer 2011, France
48g/l residual sugar. Eight months on lees. Loses a bit of the Gewurz perfume and exuberance, but has subtle herb and floral notes, and plenty of dry apricot fruit. The palate is sweet, very silky and long, with a lovely composure and good freshness, ripe and fruity and lovely. 91/100. See all stockists on wine-searcher.
Domaine Hubert Krick, Grand Cru Hengst Gewurztraminer 2012, France
This has a youthful exuberance that is lovely, with lychee and Nivea cream, and plenty of candied, confectionery sweetness. This has 35g/l which is still youthful and prominent, the palate has good candied lemon and apricot, and a fresh acidity though plenty of sweetness apparent. 90/100. See all stockists on wine-searcher.
Zind Humbrecht, Vendanges Tardive Gewurztraminer Grand Cru Hengst 1989, France
Gorgeous nose, filled with mature notes of toffee and honey, and buttery richness. There is nuttiness, and just a little hint of the exotic fragrance of Gewurz. Viscous and delicious, with so much gorgeous sweetness, flowing across the palate with sweetness and creamy texture, and perfectly balanced acidity. 94/100. Only 11.5% alcohol. See all stockists on wine-searcher.
---
Go on to part II The Best of Alsace – wines back to 1945
Go on to part III Visits to Five Alsace Producers

Strasbourg Overview
Strasbourg is the capital and principal city of the Alsace region in eastern France and is the official seat of the European Parliament. Located close to the border with Germany, it is the capital of the Bas-Rhin department. The city and the region of Alsace are historically German-speaking, explaining the city's Germanic name. In 2006, the city proper had 272,975 inhabitants and its urban community 467,375 inhabitants. With 638,670 inhabitants in 2006, Strasbourg's metropolitan area (aire urbaine) (only the part of the metropolitan area on French territory) is the ninth largest in France. The transnational Eurodistrict Strasbourg-Ortenau had a population of 884,988 inhabitants in 2008.
Strasbourg is the seat of several European institutions, such as the Council of Europe (with its European Court of Human Rights, its European Directorate for the Quality of Medicines and its European Audiovisual Observatory) and the Eurocorps, as well as the European Parliament and the European Ombudsman of the European Union. The city is the seat of the Central Commission for Navigation on the Rhine.
Strasbourg's historic city center, the Grande Île (Grand Island), was classified a World Heritage site by UNESCO in 1988, the first time such an honor was placed on an entire city center. Strasbourg is fused into the Franco-German culture and although violently disputed throughout history, has been a bridge of unity between France and Germany for centuries, especially through the University of Strasbourg, currently the largest in France, and the coexistence of Catholic and Protestant culture. The largest Islamic place of worship in France, the Strasbourg Grand Mosque, was inaugurated by French Interior Minister Manuel Valls on 27 September 2012.
Economically, Strasbourg is an important center of manufacturing and engineering, as well as of road, rail, and river communications. The port of Strasbourg is the second largest on the Rhine after Duisburg, Germany. In terms of city rankings, Strasbourg has been ranked third in France and 18th globally for innovation.
Etymology
The city's Gallicized name is of Germanic origin and means "Town (at the crossing) of roads". The modern Stras- is cognate to the German Straße / Strasse which itself is derived from Latin strata ("street"), while -bourg (French for "village") is cognate to the German -burg ("fortress, town, citadel") and English borough. So the whole name would be roughly translated into English as "Fortress on the Street", or better, "Fortress on the Road" (or crossroads).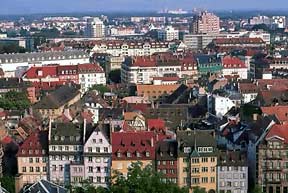 Skyline of Strasbourg
© Corbis/Nik Wheeler
(click to enlarge)
Geography
Strasbourg is situated on the Ill River, where it flows into the Rhine on the border with Germany, across from the German town Kehl. The city is situated in the Upper Rhine Plain, approximately 12 mi. (20 km) east of the Vosges Mountains and 16 mi. (25 km) west of the Black Forest.
The location and the resulting poor natural ventilation makes Strasbourg one of the most atmospherically polluted cities of France, although the progressive disappearance of heavy industry on both banks of the Rhine, as well as effective measures of traffic regulation in and around the city are showing encouraging results. The Grand contournement ouest (GCO) project, nurtured since 1999, plans the construction of a 15 mi. (24 km) long highway connection between the junctions of the A4 and the A35 autoroutes in the north and of the A4 and the A352 and A35 autoroutes in the south, meant to divert a significant portion of motorized traffic from the unité urbaine (metropolitan area).
Attractions
One of the best ways to get acquainted with Strasbourg is to take a Batorama boat tour (03.88.84.13.13) from Place de la Cathédrale, which lasts one hour and 10 minutes and costs €9,20 (€4,80 for children 3-18 years and students
Maison Kammerzell
Address: 16, place de la Cathédrale (next to the Office of Tourism)
Phone: 03.88.32.42.14
The Kammerzell house is one of most typical structures facing the Place de la Cathédrale, with the date 1467 engraved on the pediment of the door. At that time, the house belonged to Hans Joerger, a draper, who had occupied the premises since 1427. It was then acquired by the Staedel family before being sold to Martin Braun, a cheese maker, in 1571, who extended the house, building the upper floors in 1589.
In 1604, Braun's daughter married Robert Koenigsmann, better known as the "Anglais", for having brought tobacco plants back with him from England, which he then cultivated at what was known as the "Ferme d'Angleterre", a short distance from Fuchs Am Buckel. The house was then acquired by the Wohlleben family, followed by Jean Bernhardt, a merchant, whose son sold it to Jean François Fuchs, a grocer.
In 1806 it was purchased by Philippe-François Kammerzell, himself a grocer and native of Würzbourg. Sold at a public auction in 1879, it became an integral part of the heritage of the Oeuvre Notre Dame. Today, it houses a gourmet restaurant which rents the building from the Oeuvre.
strasbourg2strasbourg3
NEXT PAGE » Alsace Links